Media
I'm occasionally asked to talk about my work (but usually to talk about other, more remarkable people's work) on TV or radio: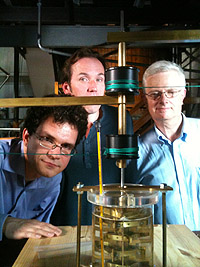 l-r: self; televisual luminary; replica Joule paddle-wheel apparatus; Alan the props guy (an authentic Invisible Experimenter)
Questions, Questions. BBC Radio 4, 18 August 2011. Here I attempted to answer the age-old question: "If everybody used to drink beer instead of water, weren't they drunk all the time?" More on the blog.
Horizon: What is One Degree? BBC2, 10 January 2011. Featuring the comedian and nearly-doctoral physicist Ben Miller, this is a wide-ranging study of the meanings of one degree of temperature change. I appear in a sequence filmed at Elgood's Brewery in Wisbech, discussing James Joule's brewery background and the paddle-wheel experiment to determine the mechanical equivalent of heat (complete with Otto Sibum-style re-creation!) An odd day, also discussed on the blog.
Křížem krážem Cottonopolis. Radio Vltava, Czech Republic, July 2010. Czech-language series on Manchester past and present. Programme 5, "Věda" ("Science") is an interview with me (given in English, dubbed into Czech), with sections on John Dalton and the origins of the Manchester computers.
Time Shift: Hard Drive Heaven. BBC4, 9 February 2004. Documentary on the rise of home computing in Britain. From before I had hair.