Beer and alcohol history events
I have been researching brewery science in history since 1999. A few years ago, a colleague asked if I could offer anything to one or another of various public events programmes that were being put together at the time. "You could do something on beer," was the suggestion. "In a pub."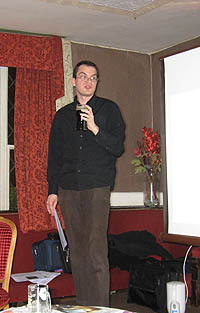 "AV requirements: data projector and screen; electric kettle; pint pot..." Talk on beer chemistry and adulteration at the Briton's, 2008
I thought about it. It made a lot of sense. People like pubs. Pubs attract more passing trade than museums or science centres. Some pubs also have decent function rooms for small audience events. Plus, they sell beer. I reasoned that people who are interested in this kind of thing would still turn up as usual, whereas people who didn't enjoy it could always slope off to the bar. People who found they were only halfway enthused, of course, could go to the bar and come back, relying on beer either to put them in a better frame of mind or to reduce their awareness of the whole experience.
Since 2006 I've given public talks in public houses for British Science Festivals in Birmingham and Bradford, the Manchester Science Festival, Café Scientifique, various SciBars, Science Brainwaves Sheffield, and the Museum of Science and Industry's "Crazy Chemistry" week (not my title). Venues in Manchester have included the Lass O'Gowrie, Briton's Protection, Salutation, and the (licensed) café in the Manchester Museum.
In 2009 I managed some sort of step up the scale by appearing at a brewery, as the Brewery History Society and Institute of Brewing and Distilling kindly invited me to talk at a meeting held at Marston's (the former Wolves & Dudley plant) in Wolverhampton.
The exact content will always vary depending on the aims and audience of the event, but I currently have two main structures available:
Chemists, brewers and beer doctors
How do you know what's in your beer? This talk looks at public fears and chemists' authority claims about adulteration and contamination in the nineteenth century. Can the people who detect poisons be trusted not to have a sideline in supplying them? I usually run this one with practical demonstrations, including the murky arts of coloration, "heading", and "adding factitious strength", and allowing patrons to adulterate their own beer (focusing on harmless additives such as liquorice and grains of paradise: I find that breaking out the strychnine and picrotoxin substantially complicates the risk assessment form). Running time usually around 50 minutes.
Versions of Chemists, brewers and beer doctors have appeared at the Manchester Science Festival; at the 2013 International Congress of History of Science, Technology and Medicine; at SciBars in Hulme (inaugural event), Didsbury, Widnes, Bollington and Knutsford; at the Novacon 42 science fiction convention; and at Science Showoff in a viciously edited 9-minute version.
Drinking up time
A bit of a departure: veers a long way towards performance monologue territory, with me 'playing' an erratic version of an academic historian who tells quite a lot of impossible stories -- but there's also more direct use of primary source research than usual. This one also goes beyond beer, looking at the nature of 'spirit'/'alcohol'/'ethanol' as a substance. A piece I wrote for BSHS Viewpoint explains the rationale behind all this. Running time 50 minutes to an hour.
Drinking up time has appeared at the British Science Festival in Birmingham (Bartons Arms) and Bradford (New Beehive), and at two Manchester Science Festivals. Further details on the Drinking up time website.